.
The winner of the 2018 Graduate Instrumentation Research Award was: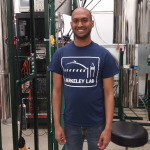 • Vetri Velan (UC Berkeley) for "Measurement of Light and Heat Signal Yields in Superfluid 4He With Calorimetric Readout".
The following proposals (alphabetical by last name) were given honorable mentions: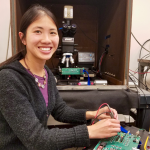 • Carolyn Gee (UC Santa Cruz) for "Applications of Low Gain Avalanche Detectors: 4-Dimensional Tracking with Ultra-Fast Silicon Detectors",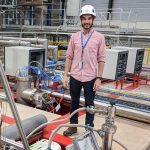 • Peter Madigan (UC Berkeley) for  "Comprehensive characterization and optimization of the LArPix sensor",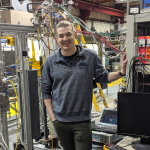 • Dylan Temples (Northwestern U.) for  "Improving low-mass reach of xenon TPC dark matter searches by doping with light noble elements",
• Qing Xia (Yale U.): "Developing high-bandwidth digital data transmission for next-generation 0υββ detections"
The 2018 GIRA selection panel was: Jodi Cooley (SMU), Juan Estrada (FNAL), M. Garcia-Sciveres, chair (LBNL), and R. Guenette (Harvard).